I began my Pilgrimage today, a day earlier than I had planned due to the severe thunderstorms forecasted in the area. The first stage from Saint Jean Pied de Port ("SJPDP") is one of the three most treacherous treks on The Camino according to most guidebooks I've read. My plan before arriving in Europe, was to start on my birthday (Sep 1st) and arrive in Santiago on September 29th (what would've been my father's 81st).  I'm walking the "French Way", via the "Napoleon Route" which is the more difficult of the various trails one can take (i.e. It's like skiing "the  blacks" or "hitting from the tips" in golf). I was a bit anxious this morning when I awoke, the day had arrived, and although I was confident I had trained well for what lie in front of me, the butterflies still stirred (a combination of excitement and fear).
Below is the first photo I took as I walked (more like stumbled as I am carrying far too much gear) out of my hotel to start the journey (August 31st at 5:49 a.m.):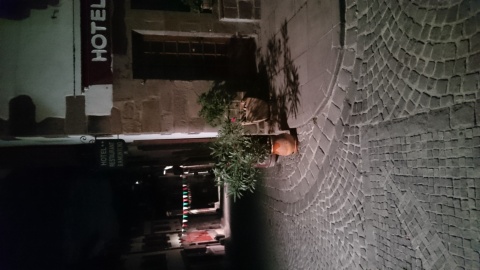 I've reached my first "fork in the road" (see below) 1. Napoléon Route (orange) –  the more arduous route but by all accounts the most spectacular. 2. Valcarlos Route (green) – recommended for the novice hiker (which I am) and especially if there's weather.
Of course I opted for the Napoléon Route (I can only imagine the comments if I had chosen the easier path…). Napoleão (figured I'd through a little Portuguese versions in there for my friends reading in Brasil) favored this route to get his troops in and out of Spain during The Peninsular War. It was also the route of choice by the medieval pilgrims anxious to avoid the bandits hiding in the trees surrounding the lower route. I'd welcome a bandit at the moment, they'd be doing me a favor by lifting "Pepe" off my back. Oh yeah, "Pepe" was the name given to my rucksack by my cousin Javier when he dropped me at the station in Madrid. Actually, I've adopted the name Pepe for my mochila (spanish for backpack), Javier was actually talking to the bag as if there was a person ("Pepe") inside we passed people on the way to my platform, "Pepe, comportarse o vamos a tener que volver a la casa y cortarte los brazos también!"
("Pepe, behave or we're going to take you back to the house and cutoff your arms also!")
Frank Sinatra crooning in my headset and a full moon, what a great start!
St Jean…is in my rear view mirror and the rooster is crowing (literally)…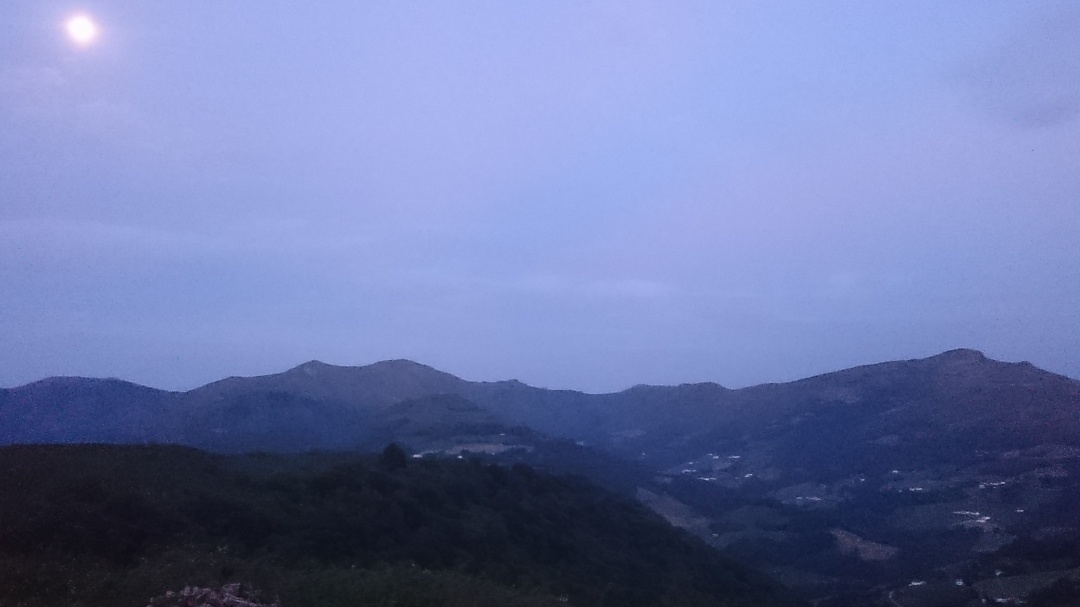 I pulled into Orrison and stopped for breakfast at the albergue (or seein' as I'm still on French Soil, "auberge"). Not many options, not complaining chorizo sandwich suits me just fine!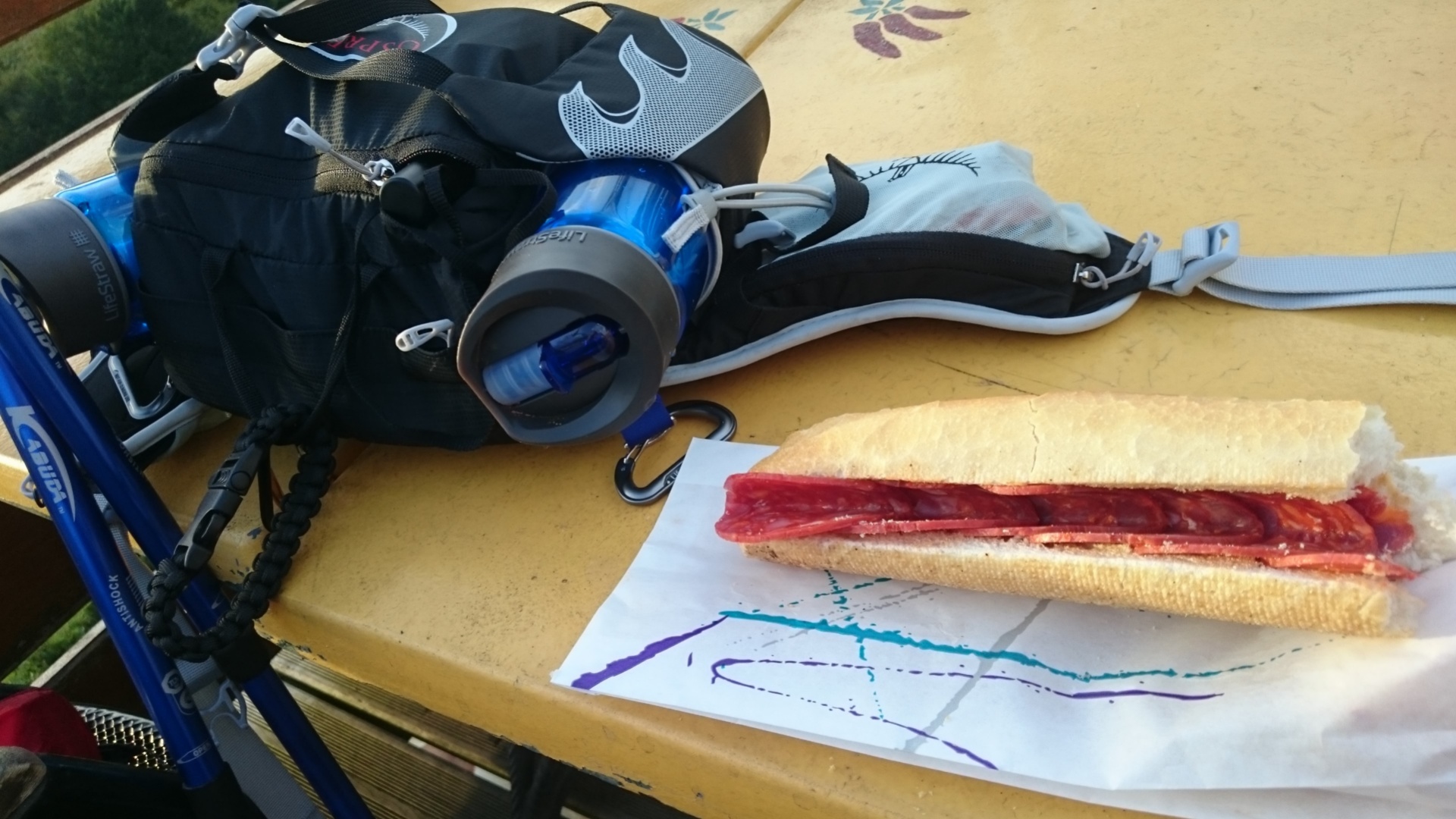 I met my first fellow pilgrim at the water fountain, Albert 'Alby' from Perth, Australia. He actually spent the night in the Auberge Orrison, so he'll have 8km less to trek today.
About a klick up the road I would encounter my second pilgrim,  Josefiina from Finland. She was picking berries, and seein' as I'm carrying an arsenal of first aid items in Pepe I thought best to stop and check on her (those darn berry bushes can have the nastiest of thorns)!
Turned out Josefiina was just fine, but was gracious enough to keep me company on our way to Roncesvalles 🙂
Upon cresting Col de Lepoeder (the summit if you will), Josefiina and I decided to take a break and soak in The Sun and the magnificent views.
So after the standard, "…getting-to-know-you chit-chat", Josefiina points and says, "well at least it's all downhill from here!" This has now become my most hated idiom. Now in fairness to Josefiina, after a grueling uphill climb (especially for me as I'm lugging Pepe's heavy ass on my back) going "downhill" seems as if it should be easier. Not!! Niet!! Nein!! GAME OVER!! Thanks for playing but no plastic spider for you!!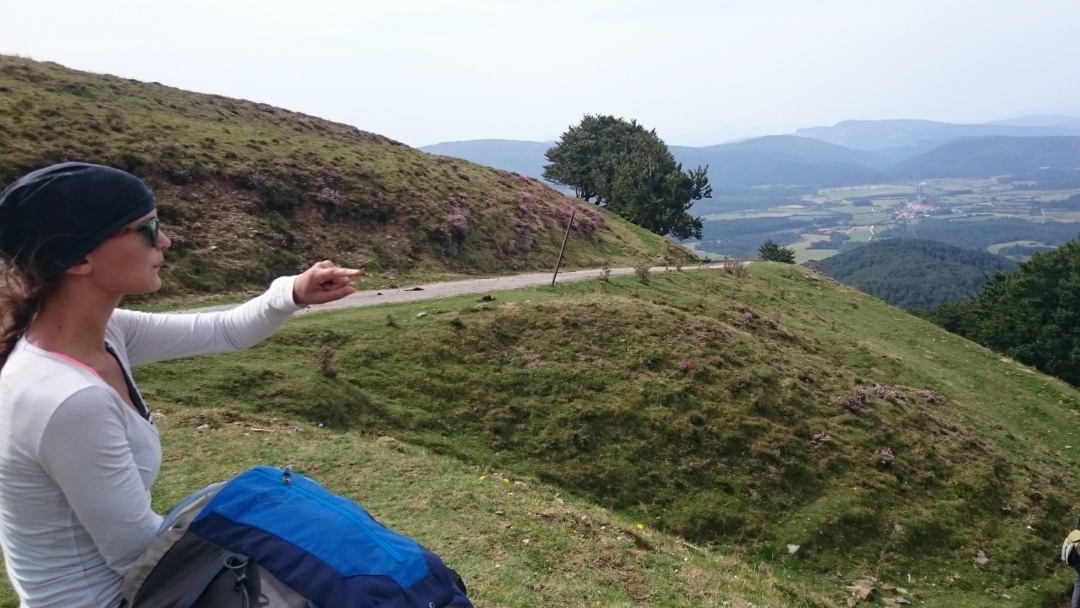 Sidebar: prior to to travelling to Spain, and while I was visiting/training in Houston with my friend (and Brother) Shawn, we were discussing my gear checklist. Shawn's also my "Trump" inspiration, but I'll share more regarding that in a later post. Regarding my gear for the trip, I told Shawn wouldn't it be cool if you brought back an awesome walking stick (staff) from Peru (as he had a mid-July trip planned). I mean it would be far better than your run-of-the-mill trekking poles. Basically, I wanted a more rustic "look", I mean no tough guy's gonna be walking the trail with technologically advanced and balanced trekking poles, right? Ugh check it, thank you Amazon for the best purchase I've made to date – my blue lifesavers! Without a doubt in my mind, these poles have saved my ankles and knees, if not my life!!
I'll save y'all the play-by-play, but let's just say (without cursing) the 4km steep descent with 27kg (I've been embarrassed to this point to share Pepe's weigh-in, even after we "cut-off" his legs)  strapped to your back – blood-curdling!
The good news (well for those of you who haven't bet 2/5 against) I made it, mostly unscathed!
Listen to my Day 1 St Jean Pied de Port Playlist on Rhapsody: